To say that any food is the healthiest in the world is a rather significant claim, but I am convinced that in the case of extra virgin olive oil there is enough evidence to corroborate it. – Simon Poole
This has been highlighted in an interview with Dr. Simon Poole, a famous British doctor, researcher and writer, based in Cambridge, who declares himself a passionate ambassador for EVOO and the Mediterranean Diet.
Many recent studies have shown that a diet based on extra virgin olive oil can significantly improve our health, well-being and vitality, and also help us maintain a healthy weight and prevent cardiovascular diseases, cancer, diabetes and even dementia.
Would you consider extra virgin olive oil the healthiest food in the world?
To say that any single food is the healthiest food in the world is quite a significant claim, but I am convinced that in the case of extra virgin olive oil there is enough evidence to substantiate this statement. Firstly because it is a major ingredient and the main source of fat in the Mediterranean Diet – the healthiest diet in the world, and also because there is evidence that it has impressive and measurable effects on health as an individual food. This is unsurprising because we are discovering powerful antioxidant and anti-inflammatory components which have biological effects. What would you highlight about EVOO compared to other vegetable and seed oils?
EVOO is a fruit juice which contains many antioxidant and anti-inflammatory polyphenol compounds unlike other vegetable and seed oils. It is not refined, heated or chemically treated which has the potential to destroy beneficial nutrients. It also is comprised of a perfect balance of healthy fats. Olive oil is one of the fundamental pillars of the Mediterranean Diet, a food pattern of which you have declared to be an enthusiastic.
Is this food pattern fashionable among British consumers?
The British love the Mediterranean for its climate, people and lifestyle. The Mediterranean Diet has gained a reputation in recent years as the "gold standard" diet and is recommended by the National Health Service. Although different diet Fashions come and go, it is the Mediterranean Diet which continues to provide the most robust scientific evidence as a diet which can reduce the risk of heart disease, cancers, dementia, and many other chronic illnesses.
How do you rate the evolution of the consumption of extra virgin olive oil in the United Kingdom?
The average consumption of extra virgin olive oil per person has risen in recent years but it is still less than 1 litre per year. I have published work to show that if the UK is to reduce deaths by 20,000 per year which has been shown to be a possibility if more people adhered to the Mediterranean Diet, that should be associated with an increase of consumption of extra virgin olive oil by a factor of ten times.
Do the British show interest in this food? Do they know it?
Unfortunately there is an urgent need to educate people in Britain to understand the crucial role played by extra virgin olive oil in the Mediterranean Diet – a diet that has been shown to reduce the risk of chronic disease, lengthen lives and improve well being. There is a great deal of work to help people to understand the importance of the uniquely healthy polyphenols in extra virgin olive oil as well as to teach people the extraordinary pleasures of the different tastes and sensory qualities of extra virgin olive oil.
Do UK chefs and restaurants use EVOO in their establishments or is the presence of this product limited to Mediterranean restaurants?
Most UK chefs unfortunately use other cooking oils including canola oil (in the UK known as rapeseed oil). There is widespread misunderstanding about the "smoke point" of oils and despite evidence that extra virgin olive oil being the most beneficial cooking oil, the myth persists that it is not advisable to cook with extra virgin olive oil. I have surveyed various restaurants including those which brand themselves as Mediterranean and it is very uncommon to find even these restaurants using extra virgin olive oil.
Are there promotional campaigns about the Extra Virgin culture being carried out in the United Kingdom? Do you think something else should be done?
There are few promotional campaigns in the United Kingdom to promote extra virgin olive oil, and sometimes it feels as though I am a lonely voice advocating and educating about extra virgin olive oil. I believe there is great potential for growth in this market because as son as people understand the scientific evidence, learn about the health benefits and begin to taste high quality extra virgin olive oils they become enthusiastic cosumers of extra virgin olive oil for the rest of their lives.
How do you think Brexit can affect the presence of olive oil in the British market?
Brexit may have the effect of encouraging more imports of extra virgin olive oils from non EU countries, although of course currently the British are most familiar with products from countries like Spain, Greece and Italy. It seems unlikely at the moment that extra virgin olive oil would be the subject of tariffs. It would be very disappointing if we were to experience a similar situation to the tariffs imposed by the USA. I have been involved in the campaign to limit as far as possible the damages from the US tariffs, and it would be important to persuade the UK government that it would be damaging to place restrictions on a food that has a recognized EFSA health claim.
How did you became involved in research related to olive oil? Do you currently have any lines of research open related to this sector?
As a working physician with a great interest in lifestyle medicine, I saw great changes in my patients who adopted the Mediterranean Diet with regular enjoyment of extra virgin olive oil. I have become a passionate ambassador for extra virgin olive oil and now travel to lecture to the public, health professionals, producers, importers and retailers to educate and advocate the extraordinary benefits of this most wonderful food.
---
Comment by Athanasios, producer of Myrolion: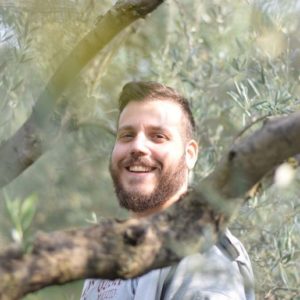 There is a great need for olive oil education in the UK as Dr. Simon Poole suggests, indeed. Consumers will benefit by increasing their nutritional awareness, in regards to EVOO.
There are two educational pillars;
Learning to incorporate EVOO in everyday meals and replacing other fats that could be potentially harmful or not as healthy.
Learning how to best use EVOO for optimal value-for-money, health benefits and culinary experiences.
Professionals such as Dr. Simon Poole could come together with experienced producers from the European South, such as our family, to ignite a series of consistent educational events that will be commonly planned and funded.
Olive oil, especially Organic EVOO, can elevate UK's health levels if incorporated right in Brits' culture. Of course, as stated at " The Olive Oil Diet: Nutritional Secrets of the Original Superfood", a book co-written by Dr. Simon Poole and Judy Ridgway, EVOO can benefit health in the context of a well-balanced diet and lifestyle in general. There is no such thing as miracle food. The human body just doesn't work like that.