From city family to olive oil experts
As a child, I watched as both of my parents worked tirelessly on their IT business. I would spend most of my time trailing behind my father and his clients or following my mother to the office; it was their only assurance that I would be taken care of. Meanwhile, I was learning about the "real world" up close. In 2010, Greece started experiencing the notorious crisis. All of that hard work was not enough to keep us standing. I soon got the first taste of "austerity" – a light word coating a cruel concept. What made us olive oil experts?
My grandfather's words came to our rescue: "Our olive oil's aroma is as good as myrrh, it's Myrolion!"
Even though he passed away one day before I was born, this person influenced my life in the most immediate way. By the end of 2012, we had managed to tame part of my grandfather's abandoned olive orchards.
Along with my mother, Ioanna, and father, Vangelis, we started taking care of my grandfather's land and soon received the first fruit of this process. It was so different from the city life we were used to and thus quite refreshing. However, we soon realized that we should do more If we wanted to keep it sustainable.
Throughout 2016 I was studying and kept refining my skills to one day be able to start my family business. This day came in May 2017, when Myrolion became officially a startup that produces certified Extra Virgin, Organic olive oil. A few days later, Myrolion received an award for its health protecting properties.
Since that day, we have offered all of our care to our grove and are being rewarded for it each day.
Since 2017 our family has used our exquisite olive oil as a means to form bonds of deep friendship with other families in Denmark, Germany, Switzerland, the UK, France the USA and Canada. 
We love working with small, family-run delicatessens to help them deliver the best olive oil products to their customers. We also love nurturing families directly, by sharing our olive oil and offering them knowledge on how to get the most out of the Mediterranean Diet.
Our family's olive oil has already received three consecutive rewards for its health protecting properties, but there is nothing as rewarding as making friends throughout the world, through offering them with the result of your hard labor. 
Myrolion's future is based on three pillars; Exquisite Quality, Cultural Exchange and Earth-healing practices.
With every passing day, we grow by educating ourselves to perfect our products and services: to keep them pure, healthy, natural and transparent in a profit-oriented market which often leads to fraud and opportunism.
Our friends and their families will be soon able to visit our olive orchards. They will be able to harvest their olives themselves, swim at our private beach and pick luscious weeds and oregano that grow below our olive trees.
Finally, we aspire to create the first carbon-negative olive oil product. A great part of our revenue is being re-invested so our family can make the necessary investments towards this direction. We also accept donations.
Meet the Olive Oil Experts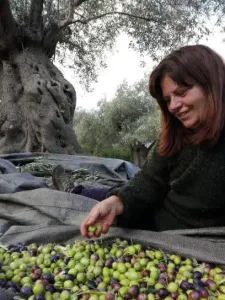 She is the female archetype of our family. A strong-minded mother and wife whose vision is always one step ahead to prevent flaws and make sure we all follow the day to day plan.
Ioanna
The family's son is a tireless mind, practically obsessed with quality and exploring different cultures. As the founder of Myrolion, you may find him picking olives, visiting fellow producers and clients abroad, or just answering e-mails, one by one.
Athanasios Demeslis acquired his bachelor's degree in materials science from the University of Patras in 2016. In his thesis, he worked to develop carbon composites, including graphene, and carbon nanotubes for conductive ink applications. Upon its successful completion, his thesis was published in the peer-reviewed scientific journal Advanced Functional Materials.
In 2018, Athanasios participated in the Life Innovation 2 contest sponsored by the National Hellenic Research Foundation (NHRF) and Apivita. In the contest, he presented OliveSmart, an original concept aimed at tackling core problems of the olive oil industry while modernizing distribution for a cheaper, more environmentally friendly result. Athanasios was awarded the grand prize: a full scholarship to a master's program in entrepreneurship and biotechnology, developed by the Biotechnology Department of the University of Thessaly and the NHRF. Athanasios is expected to acquire his diploma in mid-2021.
Through his studies and effort, Athanasios has accumulated significant experience in soil biology, olive farming, olive oil extraction, and olive oil tasting. No wonder Myrolion is lovely!
Athanasios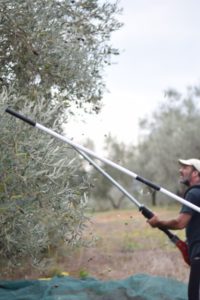 He's Myrolion's muscle. Having spent more than 20 years of his life as a programmer you would think the transition to olive farming would be tough. Apparently, his tireless labor keeps Myrolion standing.
Vangelis
Will you join us?
We are always happy to welcome more conscious foodies and explorers in our family.