Choose Currency:

(i) Shipping Costs & Delivery Estimation
Shipping Costs
European Union
6.5 for 1-bottle orders
6.0 for 2-bottle orders
Free shipping for larger orders
USA / UK / Rest of the World
12.0 for 1-bottle orders
12.0 for 2-bottle orders
5.0 for 3-bottle orders
Free shipping for larger orders
Delivery Estimation
Orders leave our estate within 1-3 business days.
Shipping takes 6-15 days for addresses within the EU and 15-25 days for the rest of world, including the USA and the UK.
YOU CAN HAVE OUR FAMILY'S POLYPHENOL-RICH, ORGANIC EVOO AT AN EVEN BETTER PRICE WITH OUR  FULL-CASE (28% OFF) OR BAG-IN-BOX (31.7% OFF) DISCOUNTS.
HEALTHY • SUSTAINABLE • DELECTABLE
Myrolion is the result of family history, hard work and passion for purity. A father, a mother and their son now share their olive oil with you. Nurture your loved ones with the best Organic Extra Virgin Olive Oil the Mediterranean has to offer.
Certified Extra Virgin – Chemical & Sensory Analyses
Certified with the European Seal of Organic Farming for Organic Cultivation, Pressing, Storage & Bottling
High Phenolic – Increased Phenolic Content (304mg/kg) of Oleocanthal, Oleacein, Oleuropein, Tyroxol & Hydroxytyrosol

 Suggested Daily Intake for Maximum Health Benefits: 1 + 1/2 Tablespoons

Cold Pressed, below 27 degrees Celsius
Health Claim According to EU Regulation 432/2012

Ideal for Raw Use – Salads, Vinaigrettes, Sauces, Direct Consumption, Raw over Meals

Sensory Profile – Intense Aromas, Balanced Bitterness & Pungency – Enriches Taste, Does Not Overpower Other Ingredients
Chemical Features
Acidity: 0.2%
Peroxides: 4.8 mEq O2/kg
Calories / tbsp: 125
Polyphenols: 304 mg/kg
Sensory Features
Fruitness (Mf): 5.1
Bitterness (Mb): 3.8
Pungent (Mp): 4.0
Defects (Md): 0.0
Bottle Properties
Material: Glass
Weight: 875 gr
Dimensions (cm): 6 x 6 x 29
Volume: 500 ml
"Conscious choices in everyday life are genuine expressions of self-respect."
Is Myrolion Extra Virgin?
Yes. The accuracy, speed and timing of our work while harvesting, pressing and storing are perceived as extravagant by most producers. Naturally we are always proven right by the results of the chemical and sensory analyses. Zero defects, maximum fruitiness.
Is Myrolion Organic?
Yes. Our family consumes the same olive oil daily, and we wouldn't be happy to know that our food is jammed with pesticides and herbicides. So, what do we do instead?
Lots and lots of manual labor. What herbicides do in one hour, we do in days of hard work.
We let Nature do her job. Permaculture enables legumes and other naturally-occurring plant species to feed our olive trees.
We fight pests with trapping techniques instead of potentially harmful chemical sprays.
Organic cultivation limits our yield, and allows us to monitor our olive oil's quality and keep it perfect for consumption.
What is there beyond Organic and Extra Virgin?
Oleocanthal and oleacein, among other phenols, are responsible for a great number of health benefits against cancers, Alzheimer's disease and heart disease. Here at Myrolion, we work smart to ensure that our olive oil is rich in these phenols to secure maximum health benefits for our customers. Our luscious oil is certified with a Health Claim from the National University of Athens for its properties.
The Health Claim Myrolion proudly bears states that "the daily consumption of 20g of the analyzed olive oil sample provides 7.1 mg of hydroxytyrosol, tyrosol or their derivatives (>5 mg) and consequently the oil belongs to the category of oils that protect the blood lipids from oxidative stress according to the Regulation 432/2012 of the European Union."
Is your olive oil a blend?
No way. Myrolion is strictly monovarietal. Blends severely harm traceability and thus quality. Our trees – most older than the Greek state – belong to the local, resilient Pelion variety.
What does it taste like?
Myrolion is intensely fruity and pungent, and mildly bitter. This is great for consumers who enjoy olive oil with other ingredients. It doesn't overpower other tastes, it enriches them.
An experienced consumer will identify the following positive sensory features:
Why the bottle is dyed black? I want to see inside!
As curious beings, we usually want to "see inside". But when it comes to olive oil, there's not much can learn just by sight. Color is not an indicator of the oil's quality; different varieties produce different colors. An olive oil's defects cannot be seen – only tasted. But still, why is it the bottle black?
Light is one of the greatest enemies of olive oil. Light particles can penetrate and dissolve the chemical structure of olive oil. Resultingly, peroxides are released, and they severely harm the oil's quality. Luckily, that doesn't happen with Myrolion. The design enables maximum self-life while allowing you to use and store the product pretty much everywhere, as long as the temperature is not high enough.
Isn't it too simple?
Myrolion's appearance is simple indeed. This is our mindset, our lifestyle and as a result, our product. We are not interested to fascinate visually. Quality lies within the bottle not on it. The flavors and texture of our olive oil are the absolute essence with which we want to reward consumers. As a society, we are past going over the limit to become different, we are past looks. We believe this mindset is becoming obsolete and definitely dangerous for our very planet. Simplicity equals efficiency and meaningfulness. We stick by it.
Any awards?
Myrolion exists as a brand for less than 3 years. But even in that limited amount of time, we have been awarded a Standard of Excellence for three consecutive years! The awards were given for our oil's health protecting properties. They are as follows:
Olympia Awards for Health and Nutrition (2017, Athens)
Olympia Awards for Health and Nutrition (2018, Athens)
Olympia Awards for Health and Nutrition (2019, Athens)
Olympia Awards for Health and Nutrition (2020, Athens)
Olympia Awards for Health and Nutrition (2021, Athens)
Organic Certification 2022 - 2023
Chemical Analysis Certification 2022 - 2023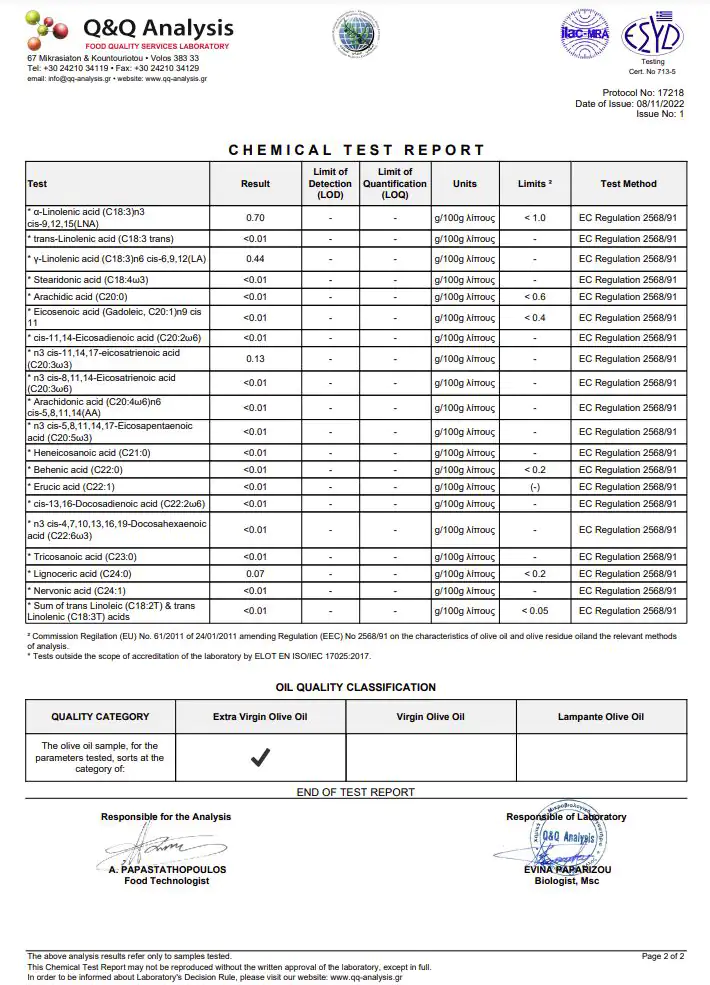 Sensory Analysis 2022 - 2023
Health Claim 2022 - 2023
Additional information
Weight
0.860 kg
Dimensions
6 × 6 × 29 cm
Details

Certifications

Extra Virgin: Yes
Organic: Yes
Health Claim: Yes

Chemical Features

Acidity: 0.34%
Peroxides: 3.8 mEq O2/kg
Calories / tbsp : 125
Polyphenols: 435 mg/kg

Sensory Features

Fruitness (Mf): 4.7
Bitterness (Mb): 3.6
Pungent (Mp): 3.8
Defects (Md): 0.0

Bottle Properties

Material Glass
Weight: 875gr
Dimensions (cm): 6 x 6 x 29
Volume: 500ml

Packaging

Glass Bottle, Bag-in-Box