Our olive oil last year was heavenly, having claimed awards for its health protecting properties and even an official health claim for 2018. However, this year it's even deeper in the Extra Virgin spectrum, and we couldn't be prouder of that.
But, do you know what it practically means for olive oil to be Extra Virgin? You can have a look on the infographic we created for you.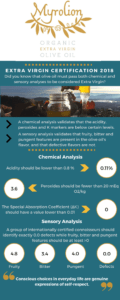 For all the details you can see the analyses below.
Here at Myrolion we daily take care to teach you a thing or two regarding olive oil. Make sure to follow us on Facebook, Instagram and Twitter so you can one day call yourself an olive oil expert! Signing up for our newsletter will also help you get special offers on our products and future courses too.