Bio Olivenöl Extra Vergine mit hohem Polyphenolgehalt – Produziert: Oktober 2022 | Myrolion 5lt Bag-in-Box
Choose Currency:

(i) Shipping Costs & Delivery Estimation
Shipping Costs
European Union
6.5 for 1-bottle orders
6.0 for 2-bottle orders
Free shipping for larger orders
USA / UK / Rest of the World
12.0 for 1-bottle orders
12.0 for 2-bottle orders
5.0 for 3-bottle orders
Free shipping for larger orders
Delivery Estimation
Orders leave our estate within 1-3 business days.
Shipping takes 6-15 days for addresses within the EU and 15-25 days for the rest of world, including the USA and the UK.
GESUND • NACHHALTIG • KÖSTLICH
Kostenloses Versandangebot!
– BAG-IN-BOX RABATT: 31,7 % 
Profitieren Sie mit unserem neuen Bag-in-Box-Angebot vom niedrigsten Stückpreis! Diese besondere Verpackungsart sichert die Qualität noch besser und kostet weniger. Bestellen Sie heute!
Myrolion ist das Ergebnis von Familiengeschichte, harter Arbeit und Leidenschaft für Reinheit. Ein Vater, eine Mutter und ihr Sohn teilen nun ihr Olivenöl mit Ihnen. Versorgen Sie Ihre Liebsten mit dem besten biologischen Nativen Olivenöl Extra, das das Mittelmeer zu bieten hat.
Extra Vergine zertifiziert – Chemische & Sensorische Analysen

Zertifiziert mit dem Europäischen Siegel für

Ökologischen Landbau

für biologischen Anbau, Pressung, Lagerung & Abfüllung

Hoher Phenolgehalt –

>300mg/kg an Oleocanthal, Oleacein, Oleuropein, Tyroxol & Hydroxytyrosol

Empfohlene tägliche Einnahme für maximale gesundheitliche Vorteile: 1 + 1/2 Esslöffel

Kaltgepresst, below 27 degrees Celsius

Health Claim gemäß

 EU-Verordnung 432/2012

Ideal für die rohe Verwendung – Salate, Vinaigrettes, Saucen, direkter Verzehr, roh über Mahlzeiten

Sensorisches Profil – Intensive Aromen, ausgewogene Bitterkeit & Schärfe – bereichert den Geschmack, überwältigt andere Zutaten nicht
Hier klicken, um mehr zu erfahren
Säuregehalt: 0.2%
Peroxide: 4.6 mEq O2/kg
Kalorien / Esslöffel: 125
Polyphenole: 304 mg/kg
Hier klicken, um mehr zu erfahren
Fruchtigkeit (Mf): 5.1
Bitterkeit (Mb): 3.8
Schärfe (Mp): 4.0
Mängel (Md): 0.0
Hier klicken, um mehr zu erfahren
Material: Bag-in-Box
Gewicht: 4500 gr
Abmessungen (cm): 20 x 20 x 30
Volumen: 5000 ml
"Bewusste Entscheidungen im täglichen Leben sind ein echter Ausdruck von Selbstachtung."
Hier klicken, um mehr zu erfahren
Ja. Die Genauigkeit, die Geschwindigkeit und das Timing unserer Arbeit bei der Ernte, dem Pressen und der Lagerung werden von den meisten Produzenten als besonders aufwendig empfunden. Natürlich behalten wir mit den Ergebnissen der chemischen und sensorischen Analysen immer Recht. Null Fehler, maximale Fruchtigkeit.
Hier klicken, um mehr zu erfahren
Ja. Unsere Familie konsumiert täglich dasselbe Olivenöl, und wir wären nicht glücklich, wenn wir wüssten, dass unser Essen mit Pestiziden und Herbiziden vollgestopft ist. Was tun wir also stattdessen?
Viel, viel Handarbeit. Was Herbizide in einer Stunde schaffen, schaffen wir in tagelanger harter Arbeit.

Wir lassen die Natur ihre Arbeit machen. Permakultur ermöglicht es Leguminosen und anderen natürlich vorkommenden Pflanzenarten, unsere Olivenbäume zu ernähren.

Wir bekämpfen Schädlinge mit Fangtechniken anstelle von potentiell schädlichen chemischen Sprühmitteln.
Hier klicken, um mehr zu erfahren
Oleocanthal und Oleacein, neben anderen Phenolen, sind für eine Vielzahl von gesundheitlichen Vorteilen gegen Krebs, Alzheimer und Herzerkrankungen verantwortlich. Hier bei Myrolion arbeiten wir geschickt, um sicherzustellen, dass unser Olivenöl reich an diesen Phenolen ist, um unseren Kunden maximale gesundheitliche Vorteile zu sichern. Unser köstliches Öl ist mit einem Health Claim der Nationalen Universität von Athen für seine Eigenschaften zertifiziert. Der Health Claim, den Myrolion mit Stolz trägt, besagt, dass "der tägliche Verzehr von 20 g der untersuchten Olivenölprobe 7,1 mg Hydroxytyrosol, Tyrosol oder deren Derivate (>5 mg) liefert und das Öl somit zu der Kategorie von Ölen gehört, die die Blutfette vor oxidativem Stress schützen, gemäß der Verordnung 432/2012 der Europäischen Union.
"
Hier klicken, um mehr zu erfahren
Myrolion ist intensiv fruchtig und scharf, und mild bitter. Dies ist großartig für Kunden, die Olivenöl mit anderen Zutaten kombinieren möchten. Es überwältigt andere Geschmäcker nicht, sondern bereichert sie.
Ein erfahrener Verbraucher wird die folgenden positiven sensorischen Merkmale erkennen:
Hier klicken, um mehr zu erfahren
Als neugierige Wesen wollen wir normalerweise "hineinschauen". Aber wenn es um Olivenöl geht, gibt es nicht viel, was man nur durch den Anblick erfahren kann. Die Farbe ist kein Indikator für die Qualität des Öls; verschiedene Sorten produzieren unterschiedliche Farben. Die Mängel eines Olivenöls kann man nicht sehen - nur schmecken. Aber trotzdem, warum ist die Flasche schwarz?
Licht ist einer der größten Feinde des Olivenöls. Lichtteilchen können in die chemische Struktur des Olivenöls eindringen und diese auflösen. In der Folge werden Peroxide freigesetzt, die die Qualität des Öls stark beeinträchtigen. Zum Glück passiert das bei Myrolion nicht. Das Design ermöglicht eine maximale Haltbarkeit, während Sie das Produkt so gut wie überall verwenden und lagern können, solange die Temperatur nicht zu hoch ist.
Hier klicken, um mehr zu erfahren
Das Erscheinungsbild von Myrolion ist in der Tat einfach. Das ist unsere Denkweise, unser Lebensstil und folglich auch unser Produkt. Wir sind nicht daran interessiert, visuell zu faszinieren. Die Qualität liegt in der Flasche, nicht auf ihr. Die Aromen und die Textur unseres Olivenöls sind die absolute Essenz, mit der wir die Verbraucher belohnen wollen. Als Gesellschaft sind wir über die Grenze, anders zu werden, hinaus, wir sind über das Aussehen hinaus. Wir glauben, dass diese Denkweise veraltet und definitiv gefährlich für unseren Planeten ist. Einfachheit ist gleichbedeutend mit Effizienz und Sinnhaftigkeit. Daran halten wir fest.
Hier klicken, um mehr zu erfahren
Myrolion gibt es als Marke seit weniger als 4 Jahren. Aber selbst in dieser kurzen Zeit wurden wir dreimal mit einem Standard of Excellence ausgezeichnet! Die Auszeichnungen wurden für die gesundheitsschützenden Eigenschaften unseres Öls vergeben. Sie lauten wie folgt:
Olympia Awards for Health and Nutrition, World Olive Center for Health (2017, 2018, 2019, 2020, 2021 - Athen, Griechenland)
Bio-Zertifizierung 2022 – 2023
Chemische Analyse 2022 - 2023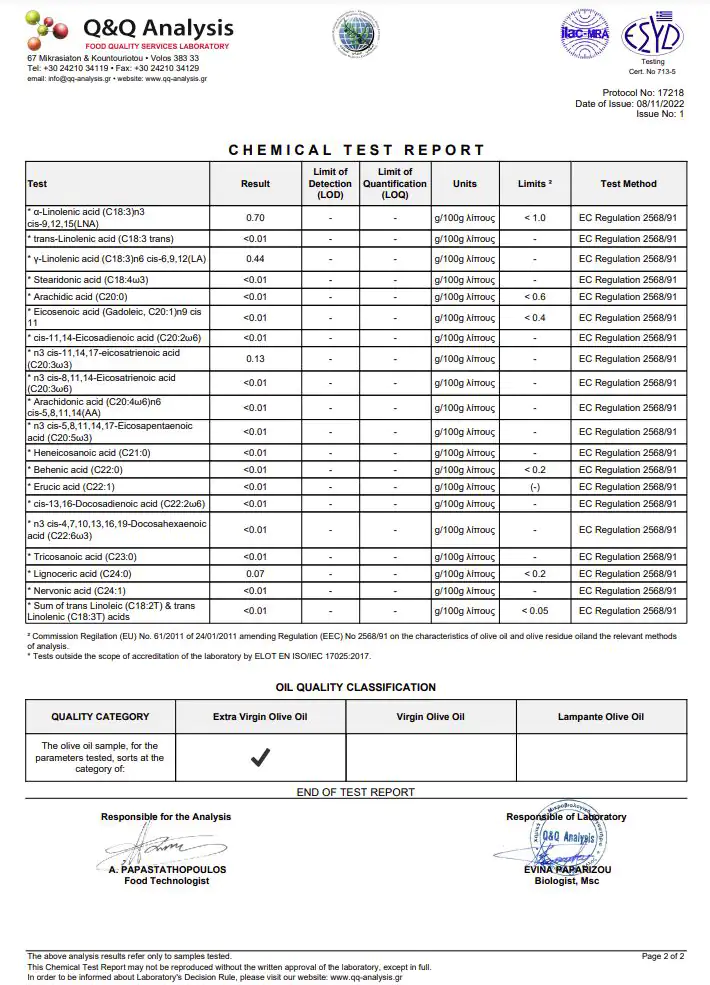 Sensorische Analyse 2022 - 2023
Gesundheitsanspruch 2022 - 2023
Zusätzliche Informationen
Gewicht
10.32 kg
Größe
6 × 6 × 29 cm
Details

Certifications

Extra Virgin: Yes
Organic: Yes
Health Claim: Yes

Chemical Features

Acidity: 0.34%
Peroxides: 3.8 mEq O2/kg
Calories / tbsp : 125
Polyphenols: 435 mg/kg

Sensory Features

Fruitness (Mf): 4.7
Bitterness (Mb): 3.6
Pungent (Mp): 3.8
Defects (Md): 0.0

Bottle Properties

Material Glass
Weight: 875gr
Dimensions (cm): 6 x 6 x 29
Volume: 500ml